The name of Smoked Meat from Leon is given to a type of dehydrated meat similar to ham and typical of Spain and originated from León.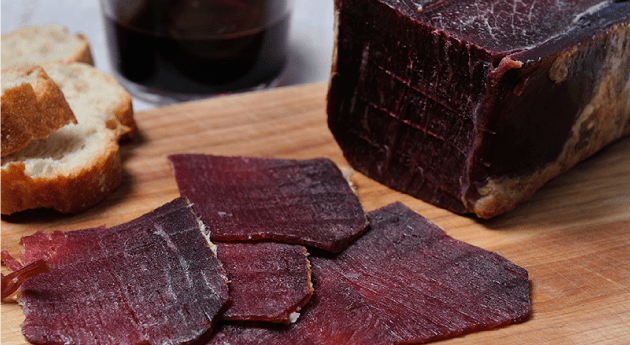 Beef is usually used to make Cecina, although it is also made with meat from other animals such as goat, bull, rabbit, etc. and its color is dark reddish, sometimes almost black.
The best known is the Cecina de León which is also protected by a protected designation of origin.
The preparation of the Cecina requires six steps that are as follows: Profiling, salting, washing, settlement, smoking and healing and the duration of this entire process must be at least 7 months in the case of Smoked Meat from Leon.
The pieces that are cured are the hind legs of the cows and therefore of great size, but although these whole pieces can be acquired if desired, the usual thing is that it is chopped, free of bone, and sold in pieces of weight between 0.5 Kg and 2 Kg. And normally vacuum packed for better conservation.
The short periods of time necessary for curing or dehydrating the pieces of Cecina, 7 months, compared to the 16-18 months of the Serrano ham and the 24-30 months of the Iberian ham, can be noticed Pieces of pork smaller than cow hams with a weight two or three times greater, but this is due to the lower amount of fat that this meat has, with respect to white pig and much more with respect to Iberian pig.
As in the case of ham, Smoked Meat from Leon is a product made to prolong the consumption and preservation of beef and veal over time, also giving the circumstance that the result is an exquisite and high quality product.
It is usually presented for consumption cut into thin slices, one millimeter or two thick and consumed directly or arranged on slices of bread, toasted or not, depending on taste.
Give it the least amount of fat that Cecina has because the animal of origin also has a smaller amount of that substance, the slices are usually irrigated with a little extra virgin olive oil, when it is cut and arranged on the plate .
It is also advisable to cut slices of Smoked Meat from Leon shortly before being consumed, to prevent them from drying out unnecessarily.
La Cecina is a product that is highly appreciated by all those who have tasted it on occasion and it is a highly recommended food to be presented in catering or snacks, both at home and in catering establishments.
You can buy Smoked Meat from Leon online through our Gastronomic Spain page and receive it at your home, in all European countries, at prices without competition.