When going round the bars there are some essentials that cannot be skipped, that are ordered without giving it a second thought. I bet you agree with me about the «potatoes bravas», the Russian salad, squid rings and of course: the Range of Iberian cold meats. A ham and Iberian cold meats board is a must, with some bread sticks, some crackers or even some olive oil and a bowl of grated tomatoes. Once you put it at the table: it disappears¡ except for the last slice, the one of shame that can be left in the plate until the waiter comes to pick it up and with his eyes is telling you: take it! And obviously you don't hesitate to do it.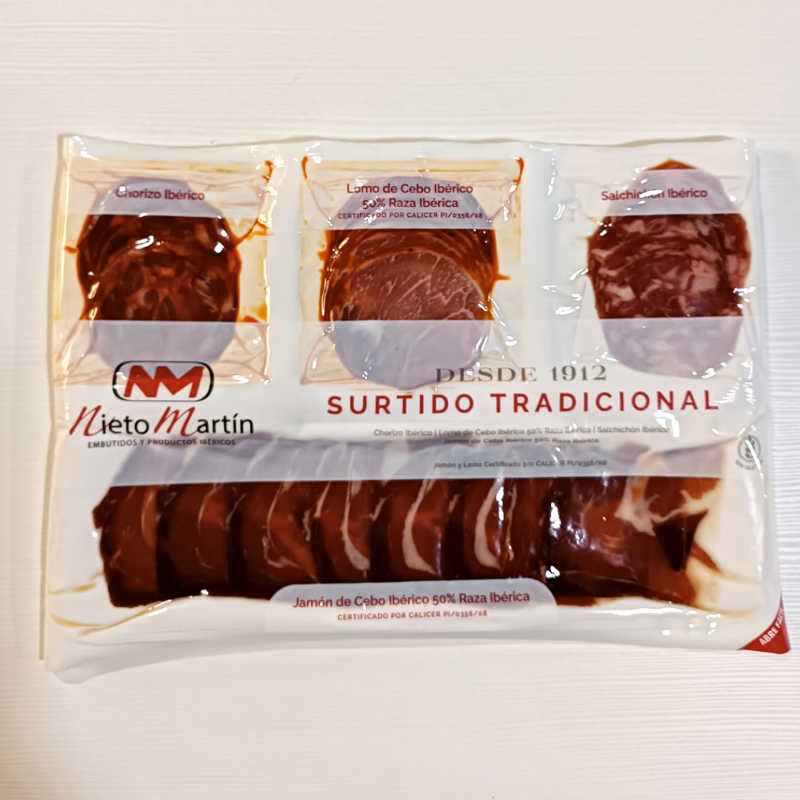 A top-notch range of Iberian cold meats:
A range of Iberian cold meats does not need for presentation, the Iberian ham and chorizo cannot be missed, although there are times in which it varies with the lomo, sausage, salchichón and cured Iberian black pudding. Generally, the ham and the Iberian cold meats come machine sliced. It tends to be presented in a big plate, a wooden board or even a nice blackboard. It is the perfect life saviour of an unexpected visit, very useful when not feeling in the mood to cook and to eat in your terrace in a pleasant summer dinner.
Here in Gastronomic Spain, we present to you a top-class range of Iberian cold meats. The ham as well as the lomo, chorizo and salchichón come form Iberian pigs of a 50% Iberian race, made in Guijuelo, certified to guarantee their quality. The ham and other cold meats are gluten free. However, the chorizo and the salchichón have Lactose, yet they come in different packages for them not to touch each other. The cold meats come thin sliced and without skin.
They come presented in a vacuum-packed tray. Each type of meat is separated and has its own space. It's easy to open, and before eating them you should wait between 15-30 minutes so the meats can recover the air lost when being vacuum-packed.
Jamones Nieto Martín is the ham drying place we rely on. They have been making Iberian hams and cold meats more than 100 years. The care, presentation and product quality make this charcuterie board a very appetising and hard to turn down snack.
We encourage you to visit our online store Gastronomic Spain, there you will find more than 1500 Spanish products with Free shipping to whole Europe in orders over 79,99€ or 89,99€ (it depends on the country, United Kingdom, Switzerland and Norway included)
Let's go round the bars!