Today I will continue with recipes of Serrano Ham that are simple to execute, some crunchy and others not and also delicious.
The first recipe with Serrano Ham that I want to bring you today is also prepared with a crunchy finish.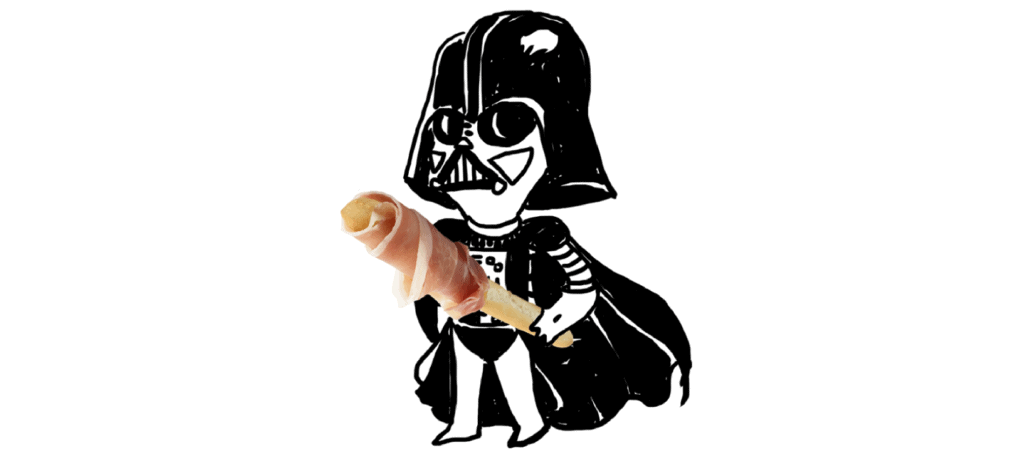 To prepare it, large Serrano Sliced Ham of 1 mm are used. thick, which are cylindrical shaped by molds and placed in the tray, on baking paper and placed for 5 minutes in the preheated oven at 200 ° C. Check that they are already crispy, removed from the oven and allowed to cool to handle.
Grilled asparagus is grilled and filled with several of them, depending on the thickness, the cylinders that we have prepared with Serrano Ham, are placed on the plate, heated and served. This dish admits very well the addition of cheese, to a little honey.
Another possibility is to refill these same cylinders with white studs.
In both cases, the contrast between the texture and flavor of the asparagus and the crispy Serrano Ham is extraordinary.
Another very rich recipe is the one prepared with cured ham, white asparagus and egg.
It is very simple. The asparagus is wrapped, two by two, with a slice of Serrano Ham and crossed with a stick to prevent the preparation from falling apart. Whisk an egg and batter the asparagus wrapped with cured ham and fry. Once fried they are removed from the pan and served.
You can also prepare this dish using, instead of egg, batter mixture, based on flour and yeast. The procedure is the same but batting the asparagus with the Serrano Ham in that pasta, instead of in the egg, and removing them once fried.
Finally, the huge variety of scrambled eggs in which cured ham participates and which, not being old dishes usually prepared in traditional cuisine, are less tasty or noteworthy, cannot be overlooked.
Starting with the scrambled eggs of the different types of mushrooms, whose harvesting has a great tradition in our country and to which once cleaned and sauteed with bits of Serrano Teruel Ham, the beaten egg is added to the pan.
But scrambled eggs made with different vegetables, such as asparagus or zucchini, among many others, and the essential cured ham, are no less tasty.
You can buy Serrano Ham sliced online through our Gastronomic Spain page, in different formats, sliced, in maces or for whole pieces and receive it in unbeatable price conditions in all European countries.