Maruca, also known as Molva-Molva, is a fish from the Gadidae family, typical of the Atlantic Ocean, especially from the northern European coastal area to Morocco, although some specimens are also found in the Mediterranean Sea. From there you can choose the delicious ling roe.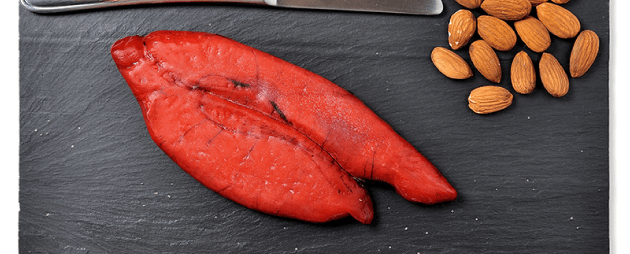 It lives in deep rocky bottoms, and feeds on hedgehogs, crustaceans and other fish, among which is cod.
It is medium in size, with an average adult length of 1 meter and its color is brown mottled by the back and whitish below.
The gastronomic value of this fish, according to the connoisseurs, is not relevant, but it is the Maruca Roe, which have great acceptance and constitute a rich food.
Maruca spawns between April and June and lays between 20 and 60 million eggs of 1 mm. of size.
ling roe are precisely the packages of eggs that are extracted from the fish and that are conveniently prepared for their intake.
The preparation of the Maruca Roe consists in its washing after the fish is extracted and put into salting. For this, they are completely covered with salt and the skin that they cover prevents them from absorbing more salt than is necessary. Then they are pressed, causing them to expel all the water, their own and that of the brine, and let it dry.
As you can see, the process of preparing Maruca Roe is completely handmade and has no additives except brine.
The result is a product with a strong sea flavor and a soft and sweet consistency. That consistency can be somewhat sticky on the palate so there are those who recommend accompanying them with nuts.
ling roe is a very rich food in proteins and in elements such as selenium, magnesium and calcium, although given its high sodium content, people with hypertension should take the necessary precautions and not consume them very regularly.
Since ling roe is a semi-preserved product, they must be stored at a temperature between 0º and 4ºC.
ling roe is usually served as an appetizer, in a toast of bread and washed down with a little extra virgin olive oil, but they are also used to make many other dishes.
Among the most common recipes with ling roe are mainly dishes prepared with fruits, such as mango or melon, salads and other vegetables such as asparagus or cucumber, although the list is very long and varied.
The truth is that the ling roe, are a product highly appreciated by fans of good cuisine and increasingly demanded.
You can buy ling roe online through our Gastronomic Spain page and receive it at your home without shipping costs, for orders with a total amount greater than € 79.99 or € 89.99, depending on the country of delivery.