The end of the longest parties of the year has arrived and that not only leads to the return to work but also you have to say what to do with that piece of Iberian ham that you have not finished in the end. We will teach you to take advantage of even the ham bone.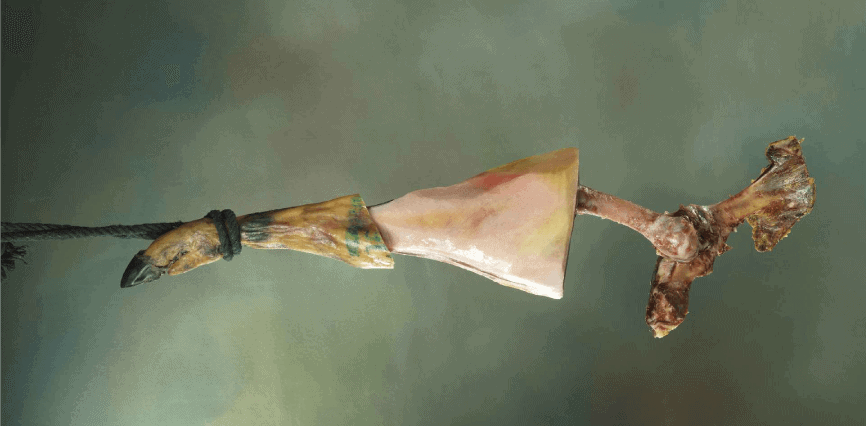 In this world there are two types of people, those who throw the ham without finishing in the trash or the people who throw in the trash a bone of ham that seems to have passed through him a hungry dog.
In this article we are going to explain how you can take advantage of that piece of Christmas ham that was given to you in the company and that you walked down the street to your house with a pride that did not fit in your chest. Don't tell me that this year they gave you a Joselito Iberian ham?
First of all tell you that if your brother-in-law got ahead of you and you didn't start the serrano ham that you had given to your parents. The best option you have, if you are not very skillful with the knife is to take it to a deli, to bone the ham and have it sliced and vacuum packed in sachets of 100 or 200 grams of serrano ham or cut with a knife and they will vacuum it. Also do not forget to order the ham bones and crusts, since you can take advantage of them at home in a very simple way.
If this is not your case and you have a serrano ham, reserve half-eaten and now that all family and friends are gone, you find yourself unable to finish it yourself or with your family. Ideally, if you have a skill with the knife, it is that you spend 40 minutes and finish cutting the whole ham with a knife and then vacuum it.
If you have never cut Iberian ham with a knife and your sister, who was the one in charge of cutting it for the whole family, has already left for her house; it is best that you bone it and remove the meat of the Iberian ham from the bone. They have no difficulty. If you follow the bone line from top to bottom, it will come out without any problem. It doesn't matter if it's one or two or three ham mallets.
Do it often we will completely peel the bone, scratching any piece of meat that we see, these taquitos are very juicy and are ideal both for stews and to make a lid of sauteed ham or with some broken eggs.
Although it is very common to buy the Serrano ham in Mercadona, there do not try to get the ham boneless or vacuum packed, since they do not do that. You will have to go to a butcher shop or deli.
The ham maces we have obtained can be packed directly in vacuo with our domestic packaging machine or filleted by knife on a wooden board. Now it will be much easier to cut the ham. Be sure to place the flattest surface on the lid to prevent the ham from dancing, use a very sharp knife and cut them as thin as you can.
Do not complicate yourself with ham bone. The only ham bone that is worth is that of the knuckle, take it to the butcher shop and take it out with a couple of pieces with the electric cutter. In another article we will talk about ham bone recipes so you can see how useful they are and the flavor they bring to the dishes.
If the Iberian ham was good, it sure was, when it is vacuum packed it will maintain its flavor and testure. If, on the other hand, if you want to bone a palette, you may not be boned at any delicatessen unless you bought it there. So you will have to do it yourself. The bone of the shoulder is different from the bones of the ham, they are more cumbersome and that is why it is not usual to cut the Iberian shoulder with a knife.
If you are looking for the best cheap serrano hams and shoulders I encourage you to visit Gastronomic Spain. FREE shipping throughout Europe. Check the conditions