If we are proud of something in Gastronomic Spain it is of having excellent suppliers. One of these suppliers, with whom we have been working for many years, is Eresma, Copese group. A large food company specialized in pork products. Today we are in luck, as we have 2 new Eresma Iberian hams in our web.
Eresma Iberian hams:
From today we offer you the Iberian ham from Eresma. An Iberian ham that comes from certified Iberian pigs, with 50% Iberian breed, crossed with Duroc pigs. This ham is cured for at least 24 months and weighs about 7,5 kg. It has a perfect balance between fat and bacon. In the most superficial part of the ham, when we begin to cut it with the knife, we can see the typical infiltration of Iberian hams. A veining that makes those first bite a real delight.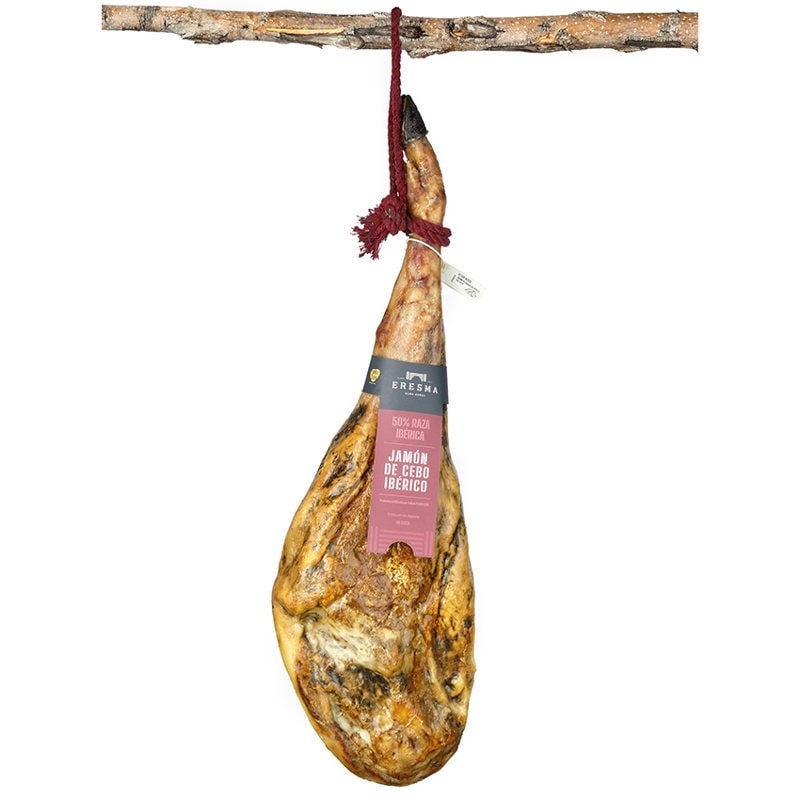 Characteristics of Eresma Iberian ham:
Firstly, Eresma Iberian ham is a certified ham, in which its origin and the Iberian breed of the leg is certified. It is a ham with a great presence, its black hoof stands out, characteristic of the Iberian breed. It has a certain consistency at touch due to the curing process of at least 24 months and its perfect balance between fat and lean meat.
Once the ham has started, we can see that it is easy to cut with the knife, with a light brown colour that will darken the closer we get to the bone.
In the mouth, the taste of Eresma Iberian ham is very pleasant, delicate, unlike other hams, the salt does not stand out. Different flavours typical of the curing process can be appreciated and the mixture in the mouth provided by the bacon and the lean meat is exquisite. At the same time, the aroma transmitted by this product make this ham a real experience.
Eresma Iberian shoulder:
Eresma Iberian shoulders are another of the new products that we have just added to our online shop. A shoulder that stands out for its juiciness and flavour. The characteristics of this product are identical to those of Eresma Iberian ham, as they come from the same animal. However, it should be noted that this shoulder has a weight of 4.5kg. due to the morphology of the shoulders compared to the hams, the shoulder is usually fattier than the ham.
This fact means that for many consumers a shoulder is more appetising than a ham. Furthermore, depending on the consumption you have at home and the skill you have with the knife, it is more appropriate to have this shoulder, since, as it is smaller in size, it is consumed sooner.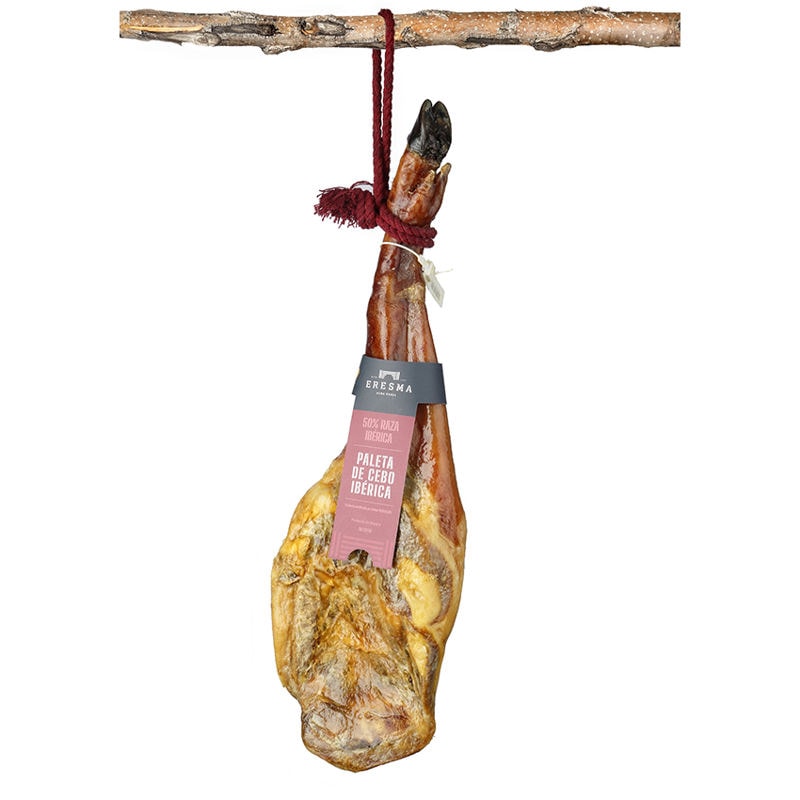 In our blog, we show you how to cut a shoulder and a ham with a knife. Bear in mind that shoulders have a different morphology than hams, not only because of their size, but also because of the bones that you will find when cutting them. You need to be more skilled to cut a shoulder and get the most out of it.
Other charcuterie and Eresma hams that you can find in Gastronomic Spain:
In Gastronomic Spain we are big fans of Eresma, which is why we have been working with them for many years. In our online shop you will find many of their products, in addition to the Eresma Iberian hams, such as the Iberian ham maces, the semi-boneless Serrano and Iberian shoulders, the duroc pork loin and some other sliced products.