Teruel Ham PDO is, certainly, the best Serrano ham on the market.
Does anyone not like to snack a bit of Teruel Ham PDO before Sunday lunch? Or to delight themselves with some good toast with Jamon de Teruel and olive oil? What about putting together Jamón de Teruel and some melon? What a delicious salad!
What it is sure is that Teruel Ham PDO is suitable for any occasion, as well as for any palate. Discover the largest offer of Serrano ham in Teruel.

¿What is Jamón de Teruel PDO?
Jamón de Teruel PDO is a Protected Designation of Origin of the ham produced in the province of Teruel. It is very popular because it was the first ham with designation of origin in the whole peninsula.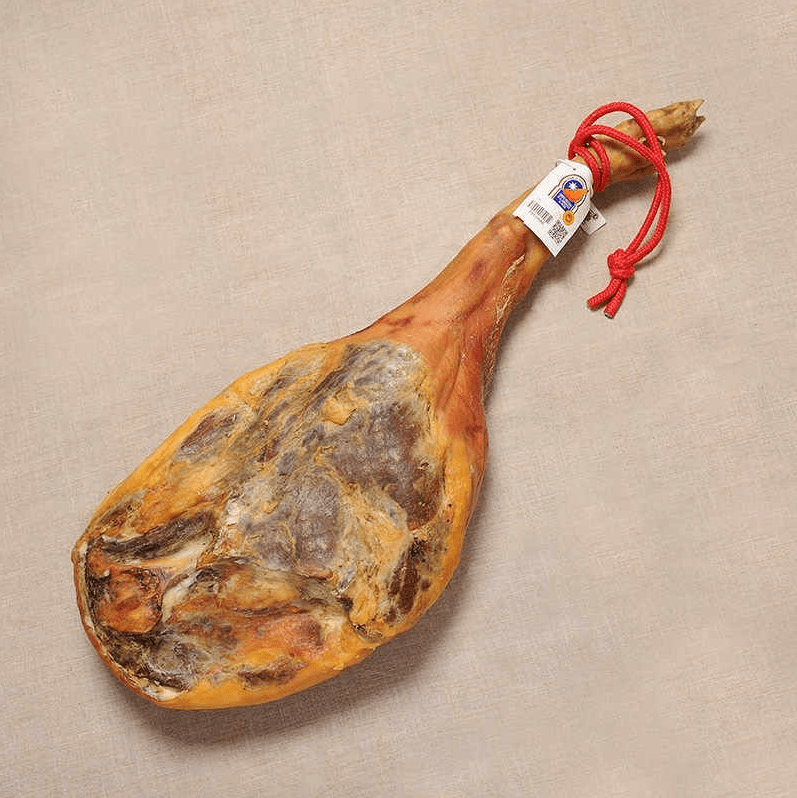 The term of Protected Designation of Origin (PDO) is used to describe foodstuffs, which are produced, processed and prepared in a given geographical area, using recognised specific methods.
Jamón de Teruel PDO comes from Serrano ham, which originates from white pork. Its breeds can be: Landrace, Duroc or Large white, among others. In this case, Jamón de Teruel PDO is of Landrace and Large White bread in the maternal lineage, and Duroc breed in the paternal lineage.
The certification of Teruel Ham PDO is synonymous with food safety and quality. It is the proof that this Serrano ham and palettes are produced and elaborated following the requirements established by the National Accreditation Body (in Spain: ENAC). It is the first certified white pork ham.
Serrano ham types
As we know, Teruel hamPDO belongs to Serrano ham's family. It is obtained by the salting and air drying of the pork's legs.
Besides Jamón de Teruel, there are also other kinds of Serrano ham which will surely be irresistible for you. Let's see the most outstanding ones!
Trévelez ham
It is a very popular ham in Spain. It is elaborated in different localities of the area of Granada, including Trévelez. They weigh between 7 and 9 kg, and they are characterized by a rounded shape and a low salt content.
Serón ham
It is another jewel of Serrano hams. It is produced in the Baetic mountains of Almeria, and it is one of the new foods in the IGP register. Unlike the Trévelez ham, Serón ham stands out for its great amount of aromas you smell during its tasting.
These three kinds of Serrano hams are regulated by the IGP, which control drying times and procedures, the same for all.
Quality is the key to differentiate them. This factor is regulated by its curing time. There are 3:
Bodega ham: curing between 9 and 12 months
Reserva ham: curing between 12 and 14 months
Gran Reserva ham: curing between 9 and 12 months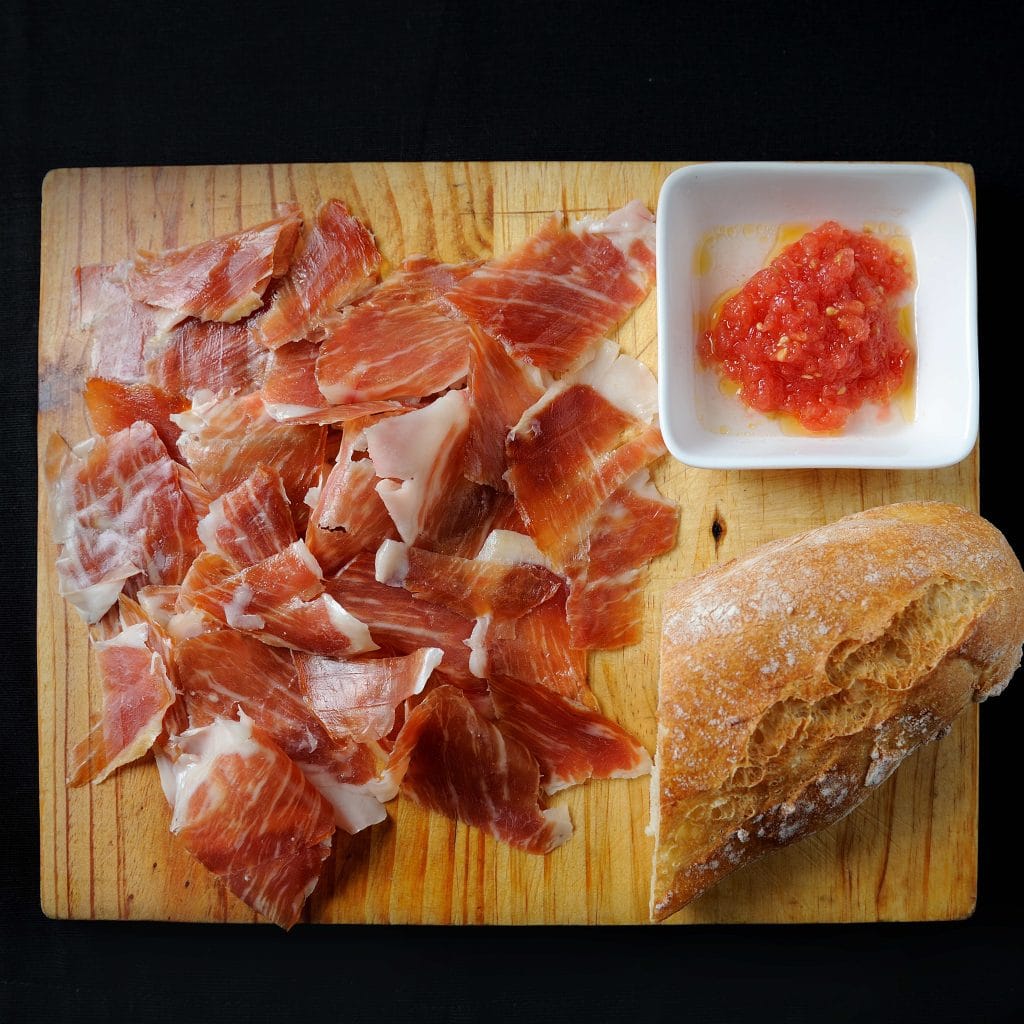 Why choose to buy Jamón de Teruel among so many other Serrano hams?
When talking about ham, the Iberian ham is always named first, and given the choice, if it is Iberian Bellota ham, better. However, it is not an accessible product for everyone's day-to-day life. When you buy a Jamón de Teruel, the brand also matters, people commonly buy a good-branded ham rather than a white label ham. It is the same for wine, you would choose Rioja or Ribera del Duero. It is a whole-leg ham that needs no introduction, if you give it as a present, you will look great!
Ham is a very common product in every Spanish house, and we have many different types. Today we present you a delicious option and at a very reasonable price. Jamón de Teruel comes from white pork, it has an exquisite taste, a uniform texture and a prolonged curing that makes its texture the most appropriate. All Serrano hams are similar, so, when you choose a Jamón de Teruel, it is recommended to buy a certificated one.
Although it is not an Iberian ham, Jamón de Teruel also has certification and security checks to avoid fake copies. When buying a Jamón de Teruel, you should take into account the following suggestions:
What to keep in mind when buying Jamón de Teruel?
The white band: the Jamón de Teruel has, as well as the Iberian hams, has a seal certifying its provenance, and its veterinary number.
It is only in the province of Teruel that the Denomination of Origin hams keep the hoof, while if they do not belong to the Denomination of origin, they lose it.
The Mudejar star is a distinctive of Teruel hams. It is considered as another certificate of quality and authenticity. You will find it etched into the pork's skin
Also, the Jamón de Teruel breed is regulated, and it has a very peculiar flavour. The breeds used to make this ham are: Landrace and Large white for female, and Duroc for male.
Differences between Jamón de Teruel and Trevélez ham:
Serrano ham certification:
Jamon de Teruel is certificated by the Teruel PDO (Protected Designation of Origin), which is an organism of quality control and assurance. While Trevélez ham is certificated by the PGI (Protected Geopraghical Indication). The Teruel hams can be identified with a white band and also a Mudejar star, and Trevélezz hams have a blue, red or black band, depending on their weight.
Jamón de Teruel is obtained from the crossing of the breeds Landrace and Large white for female, and Duroc for male. While Trevélez ham is only obtained from porks of Landrace, Large-White and Duroc-Jersey breeds. Both types of ham are considered white hams.
The Jamón de Teruel curing and drying process lasts minimum 18 months and maximum 36 months. The most common are the ones called 8 seasons (24-26 months). In the case of Trevélez ham, the minimum curing time is of 17 months for the ones that have the blue band (which weigh above 7 kg) and 23 months for those that have a black band (which weigh minimum 9 kg). Both hams are considered Gran Reserva hams.
Jamón de Teruel has a rounded shape, it comes with the whole skin, though it has sometimes a "v" cut, and its hoof is white. This ham weighs minimum 7kg, but its normal weight is around 8-8,5kg. It is reddish and with infiltrated fat. The Trevélez cured ham has also a rounded shape and keeps hoof and crust. It weights around 7,5kg and it is reddish and bright.
The flavour of Jamón de Teruel and Trevélez ham:
Both hams have pleasant tasting. Even though Jamón de Teruel is greasier, both are very delicious. Due to the climatology and altitude where they are raised, they need no preservatives. They are fed with natural feeds, which give it a softer flavour. Its fat is so tender that it slowly melts in your mouth.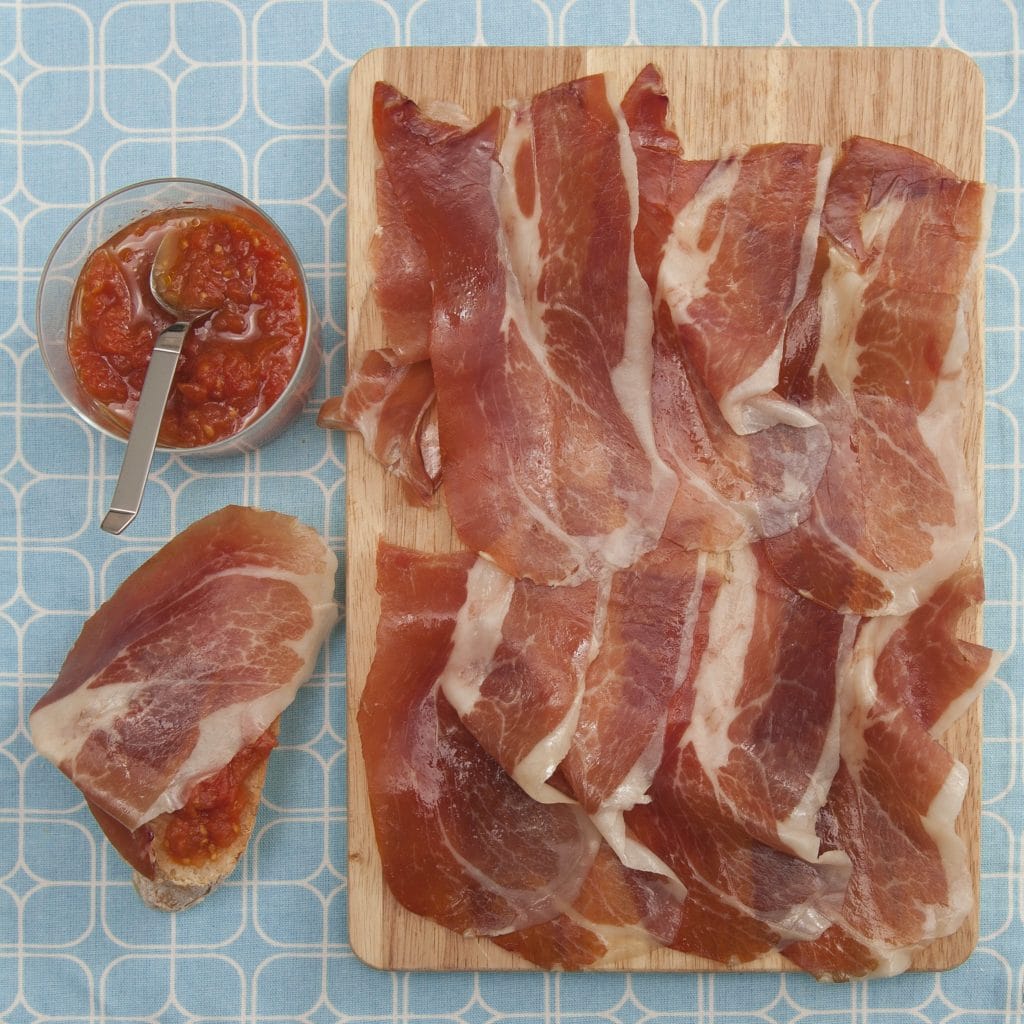 Where to buy a home delivered Teruel ham?
If you want to buy a home delivered Jamón de Teruel, you are on the right site. In our online shop you will find the best Jamón de Teruel PDO. We will offer you unbeatable prices and qualities. Home delivery throughout Europe and shipping costs totally FREE with orders over €79'99.
In addition, if you are keen on other typical products of Spanish cuisine, such as Iberian ham or other traditional dishes, in Gastronomic Spain you will find the best prices. We have an extensive catalogue with more than 800 products at your service, for instance: pickled mussels, Cantabrian anchovies, Manchego cheese, all kinds of cold cuts and many more products, especially for you. With our products you can enjoy a little piece of Spain wherever you are.
Take advantage of this opportunity and enjoy the pleasure of having Spanish food far from Spain!