What's Special About Idiazabal cheese?
What's Special About Idiazabal cheese?
Idiazabal cheese is a traditional, farmhouse, hard cheese made from raw milk of Latxa or Carranza sheep in some regions of Northern Spain. In summer, the sheep migrated to higher pastures to graze on the blossoming, new grass. During this time, the artisanal cheese makers milk the sheep, make the cheese and leave it in the rafters to mature for a minimum of two months. At the end of summer when cheese makers return back to the lowlands with their sheep, the cheese ripens and becomes ready for sale. The name of this cheese has been derived from the village of Idiazabal. If you are a lover of good cheese, we offer you an excellent white idiazabal cheese wedge and our smoked idiazabal cheese wedge.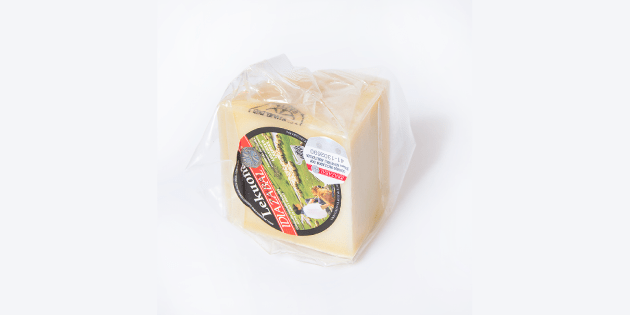 Characteristics of idiazabal cheese and smoked idiazabal cheese
Cylindrical in shape with a smooth, hard, and yellow natural rind around it, Idiazabal cheese has a pale yellow color. This cheese has a compact texture with a few pinprick holes. While it's dry, it's not crumbly and feels pleasantly oily in the mouth. The rind carries the marks of wooden molds in which it was drained. The smoky flavor if the cheese is the result of storing it near the fireplaces for a long time. The taste of the cheese is reminiscent of burnt caramel and bacon which make it pair well with red wine and cider.
The Denomination of origin for Idiazabal cheese was created in 1987, which defines the basic regulations for the product's manufacturer. Typically, unpasteurized milk from the laxta breed of sheep is used for making the cheese. However, in some cases, milk obtained from Carranzana breed is also used. The DO also instructs that the milk should be curled with natural lamb rennet.
making idiazabal cheese
Idiazabal cheese is an aged cheese, from semi-cured to cured, made exclusively from whole unpasteurized sheep's milk. It is produced by strong enzymatic coagulation that helps in the formation of pressed paste which can further uncooked or semi-cooked. It can eventually be externally smoked.
Idiazabal cheese is made exclusively from unpasteurized sheep's milk. It is produced by strong enzymatic coagulation which results in forming a pressed paste. And, it is further uncooked or semi-cooked, before being externally smoked for some time. The ideal milk used for making Idiazabal cheese should have a minimum 6% fat and it should be coagulated at a temperature of 77 to 95 ° F.
The curdle is cut into small pieces to obtain rice-size grains, and then reheated to 34 to 38 ° C. In case of coagulation at higher temperatures, the reheated and shrunken paste dehydrates and is placed in molds where it is seasoned well before pressing. Salting of the cheese is performed by rubbing the rind with dry salt or immersing the cheese in highly salted water for 24 hours. Finally, the cheese is left for aging under cold and humid conditions avoiding mold for at least two months.
At the end of aging period, optional smoking takes place by using woods from the beech-tree, birch-tree, cherry tree or white pine. The intensity of the smoked texture and flavor depend upon the type of wood and length of smoking.
Idiazabel cheeses are usually cylindrical in shape, although they are occasionally cone- or octagonal-shaped. The rinds of artisan cheeses may be engraved with drawings or symbols characteristic of the Basque culture. The rind is closed, smoked, and waxy, without mold. The unsmoked Idiazabel cheeses have a yellow-beige color, while smoked cheeses are brownish.
Varying from beige to yellow color, the interior of Idiazabal cheese is compact, with only pin-head size holes. The interior of the smoked cheese has a brownish border. Its taste is slightly acidic and piquant, buttery and consistent, with a characteristic sheep milk flavor. And, the smoked version is drier and denser, with a pleasant aroma.
Hope you liked reading this write-up. Now, if you are looking to try some delicious and healthy dishes with Idiazabal cheese or just enjoy them solely with some red wine, place your order with us.